About Us
A new, different kind of delicious world... a world of odours and spices... Try it in the Mexican canteen "AMIGOS"
---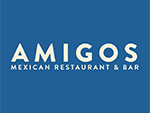 Str. Macedonia No.11
We recommend

online

reservation
A reply is received from the restaurant within a few minutes
GET: discounts, value voucher points, free taxi voucher, chance for rating and comments
This restaurant is not accepting web reservations,
Use free call instead.
Choose date
Choose guests
Address: Str. Macedonia No.11
Seats (Inside): 70
Seats (Outside): 30
Parking: Zone
We Accept:


Peт Friendly: No
Wheelchair Accessible: Yes
Languages: English
Music Type: Latino, Jazz swing
Opened: 01.06.2006
Visits: 36835
Moday 08:00 - 00:00 No Events
Tuesday 08:00 - 00:00 No Events
Wednesday 08:00 - 00:00 No Events
Thursday 08:00 - 00:00 No Events
Friday 08:00 - 01:00 No Events
Saturday 08:00 - 01:00 No Events
Sunday 08:00 - 00:00 No Events